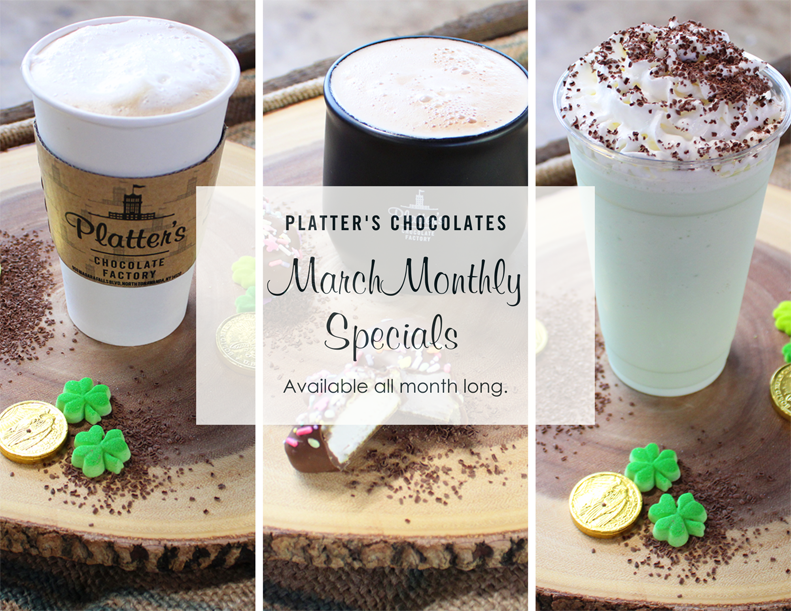 Enjoy the luck of the Irish with Platter's Chocolate Factory March Coffee Café and Ice Cream Shoppe Specials! Stop into Platter's Chocolate Factory all month long to enjoy our delicious Platter's Café treats.
Platter's March Coffee Café Specials:
Irish Cream Latte
Try our favorite St. Patrick's Day latte iced or hot with Irish Cream flavoring!
Chocolate Covered Peep Latte
Our spin on our delicious latte combined with the flavors of one of our favorite Easter products, chocolate covered peeps!
Platter's March Ice Cream Shoppe Special:
Emerald Shake
Get in the St Patrick's Day spirit with this minty, emerald, green shake! Try it today topped with whipped cream and dark chocolate shavings.
Remember to tag Platter's Chocolate Factory when enjoying your favorite Café treat.
While at Platter's Chocolate Factory, check out our monthly Product Spotlight of Platter's Coffee Products. Platter's Assorted Chocolates are available online and in-store.
#PlattersChocolateFactory #PlattersCafe #PlattersIceCream