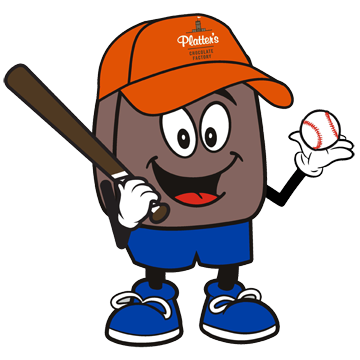 Hello, from Sammy Sponge!Platter's Chocolates is now an official sponsor of the Buffalo Bisons! As part of our exciting partnership, Platter's customers can now purchase Bisons DISCOUNTED tickets to ALL games through our website! In doing so, you will become a part of the "Platter's Chocolates Bisons Fan Club"! We will keep you in the loop on all the upcoming Platter's sponsored events and we never, EVER share your email with anyone! Here is what we're working on now, and they'll be much more to come!
Sundae (Sunday) Game Day Tickets

If you purchase your Sundae (Sunday) game day tickets directly at Platter's Chocolate Factory instead of online, you will be seated in the Platter's Chocolates Bison Fan Club section. Sammy Sponge will sure to be there for pictures and all the fun! These tickets must be purchased with cash only and by doing so bypasses any processing fees. It will also include any Sundae Game promotion we are running.
Kids Run the Bases Sundae

Platter's Chocolate will be the sponsor of "Kids Run The bases" after every SUNDAE Game! Stay after the game to participate in this fun family event. Sammy Sponge will be present on the field cheering you on - the only thing better on Sundays is a SUNDAE!
Home Run Sponsor for 2019

After each home run hit during the 2019 season, hear the Bisons PA Announcer say "That's a SWEET Home Run hit by "PLAYER NAME", presented by Platter's Chocolate Factory!" Bison Home Runs are exciting, but now they will also be "SWEET"!
Inning Sponsorship

Platter's Chocolate Factory will be the sponsor of Two (2) Innings of Line Score for every game throughout the 2019 season. How cool will it be when a Bison's Player hits a "SWEET" Home Run in our inning? (We're thinking how we can even make it sweeter for you!)
Other Exciting in-store and home game promotions will be announced throughout the season.
We can't wait to see you at the Ball Park!
To purchase discounted Buffalo Bisons tickets online, please visit: https://www.platterschocolates.com/buffalo-bisons