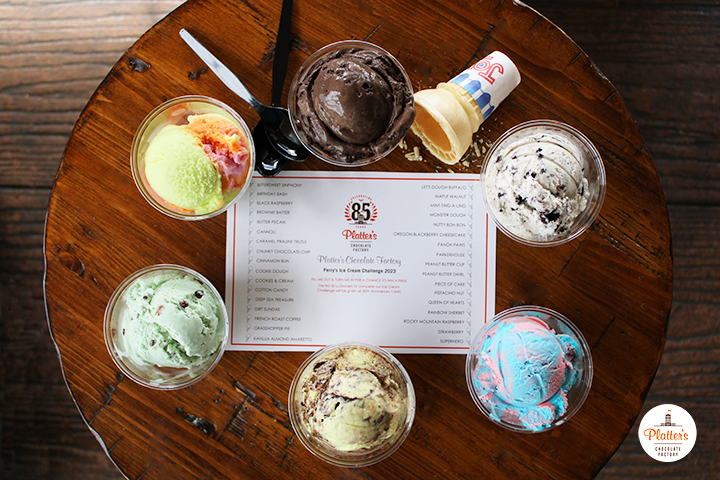 Drum roll please… Platter's Chocolate Factory is SO excited to announce our first ever, ice cream challenge!
Do you love ice cream? Do you have what it takes? Here's the skinny on how you can participate in Platter's Chocolate Factory ice cream challenge.
The challenge itself is super basic, but what you win is amazing! From all completed entries one lucky winner will receive the following:
Bragging rights that you completed the challenge.

Your picture and bio on social media for being the recipient of this prestigious accomplishment.

A Platter's Chocolate Factory 85th swag bag! (Valued at $100)
But wait, there's more!
The first 25 to complete the challenge will receive a Platter's Chocolate Factory 85th Anniversary t-shirt.

Everyone who completes the challenge will receive a snack size bag of milk chocolate, orange chocolate, or dark chocolate sponge candy.

All completed cards will be entered in a raffle to win a prize from the following items:

Platter's Chocolate Factory 85th Swag Bag

Platter's 85th Anniversary Coffee Mug

Platter's 85th Anniversary Ornament

Sammy Sponge Plush Doll
Challenge Details:
The challenge kicks off on May 15th and will run through July 31st, 2023.

You must try ALL 34 flavors of Perry's hard ice cream that we carry. Every time you try a flavor you get a stamp on your card.

Your family and friends can help you!
Do you think you have what it takes?
And now for the small print, aka rules:
You will receive a stamp for the ice cream flavors (only those flavors) listed on the official card.

We have a few flavors that rotate therefore if the flavor is not in the case, you will have to come back to try that flavor another time.

No exceptions to the flavors on the card, if there is an allergy or someone does not like that flavor, this is the time to call in a friend or family to help.

One stamp per person, per item. You cannot get multiple flavors and have them count for multiple stamps.

You can order your ice cream however you enjoy it, on a cone, in a dish, or as a sundae.

Any size counts as one item.

If you lose the card you will have to start over, oh rats! More ice cream.

One prize per card completed.

Prizes cannot be exchanged or returned for cash value.

Violations of rules or any cheating will be grounds for disqualification.

We reserve the right to stop the challenge at any point in time.
Platters Chocolate Factory
908 Niagara Falls Blvd
North Tonawanda, NY 14120

Monday - Friday: 7:00am - 9:00pm
Saturday: 8:00am - 9:00pm
Sunday: 10:00am - 9:00pm