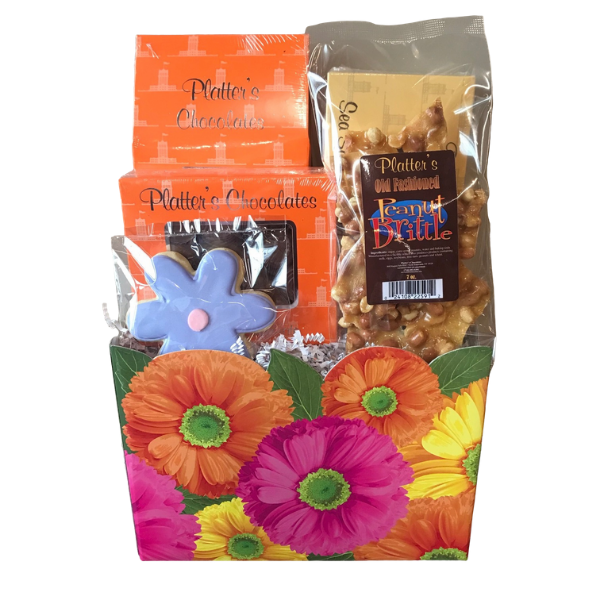 Platter's Chocolates is a family owned business and we understand the importance of having a Mom to help guide us through our life journey. Help celebrate Mom this Mother's Day with chocolate treats from Platter's Chocolate Factory!
For Mother's Day, Platter's added some additional sweet treats and chocolate baskets to order online for delivery or curbside pickup. New Mother's Day items include:
Assorted Chocolate in a Mother's Day Box
Mother's Day Treat Baskets: Deluxe, Large Snacks, All Season Chocolates
#1 MOM Chocolate Sucker
Flower Chocolate Suckers in Rose, Tulip, and Daisy
Orange Chocolate Lover's Deluxe Basket
Shop all Mother's Day items here.
Don't forget to shop our snack sized chocolate items, as well as our all season treats!
During this time of PAUSE and COVID-19, we would like to assure our customers that we are taking the proper precautions needed to keep you and our staff healthy. Platter's Chocolates café and retail store is open for chocolate, coffee, and ice cream. We are limiting to 10 customers in our store at one time.
Curbside pickup is not available for coffee or ice cream. When ordering chocolate for curbside pickup, please place your order on our website.
When shopping in our store, we ask that you please sanitize upon entering with our provided sanitizer. Please be mindful of social distancing and wear recommended masks. Thank you for your patience and understanding during this time, as you may have to wait. Please call or email Platter's Chocolates with any additional questions or concerns. 716-693-5391