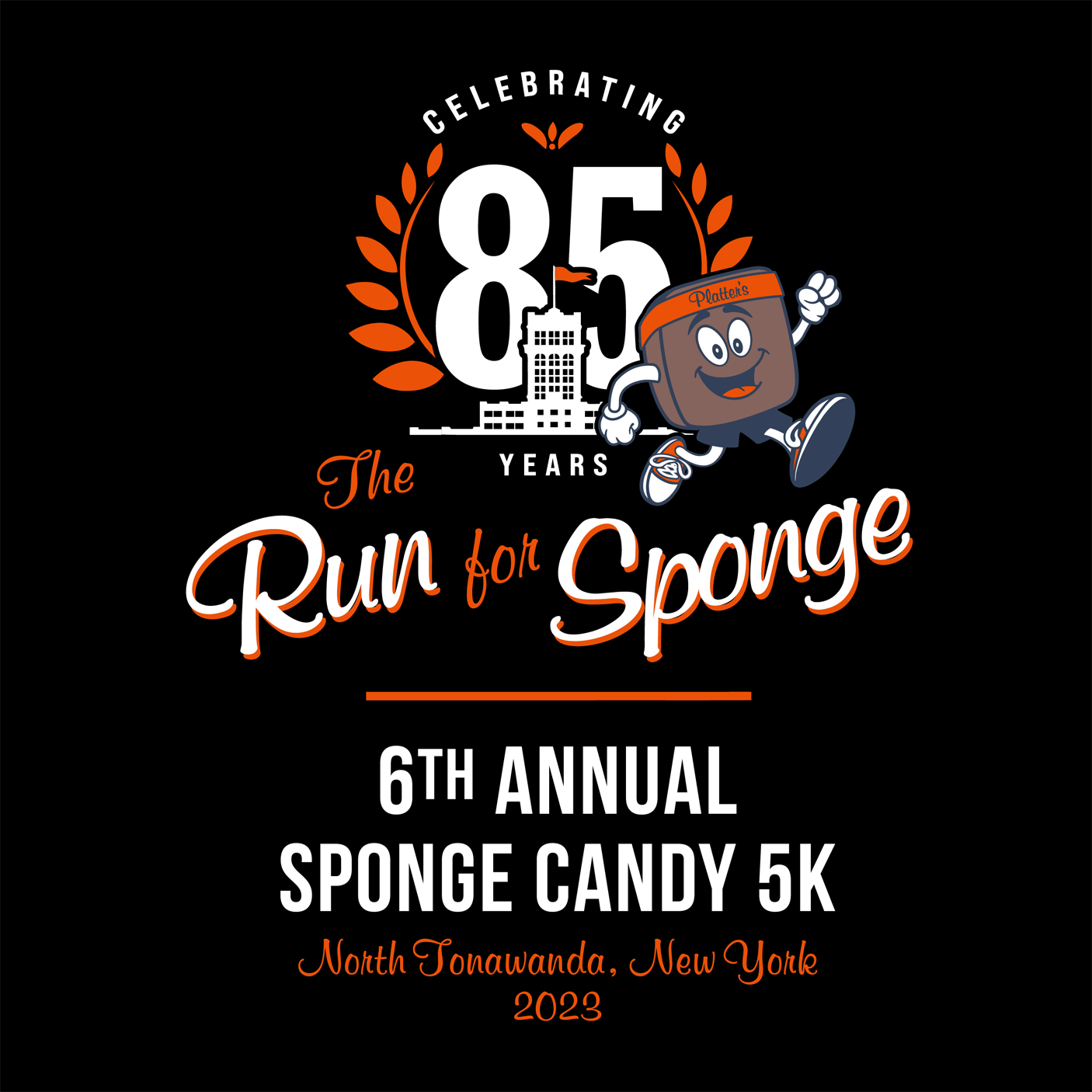 Have you ever run (or walked) for sponge candy? How about helping support a non-profit organization that makes a difference in your community? Platter's Chocolate Factory is at it again! Plans are underway for our Platter's Chocolate Factory 6th Annual Sponge Candy 5K to be held on Saturday, September 16, 2023.
The "Sponge Candy 5K" has become a tradition for our community, allowing residents, volunteers, and race participants to enjoy a fun-filled day while giving back to non-profits.
Over the last five races, Platter's Chocolate Factory and the community have raised over $40,000! Together we have donated to:
Samaritan's Purse is a Disaster Relief fund. Platter's Chocolate Factory supported hurricane relief funds for those affected by the active hurricane season in 2018.
Olivia's Bearsis a local organization that supports children struggling with medical conditions. They deliver over 100 teddy bears annually, to patients at John R. Oishei Children's Hospital as a sign of hope, and a symbol of love and support.
Joyful Rescues save adoptable pets and rehome them into the Buffalo Niagara community. Heidi's sweet Belle, a Treeing Walker Coonhound, was adopted from Joyful Rescues.
This year, we are partnering with Special Olympics NY, Inc., an organization nominated and chosen by team members at Platter's Chocolate Factory. Thank you, Ava, Meghan, and Phil! Each of them volunteered with Special Olympics and support the mission:
The mission of Special Olympics is to provide year-round sports training and athletic competition in a variety of Olympic-type sports for children and adults with intellectual disabilities, giving them continuing opportunities to develop physical fitness, demonstrate courage, experience joy and participate in a sharing of gifts, skills, and friendship with their families, other Special Olympics athletes and the community.
This year the 5K race is planned for Saturday, September 16th, and is set to begin at 3:30pm sharp. For those of you who want to participate in the race but are looking for something a little less serious, we are introducing a 1-mile walk! Good to know, no matter if you run the 5k or walk the 1-mile you still get all the goodies! A free t-shirt, sponge candy, and all the good feels knowing you support Special Olympics NY!
In addition to the race, we have a fun afternoon planned to include a few vendors, basket raffles, and Sammy Sponge will be here giving away hugs and high-fives all afternoon! After the race, we will be moving next door to enjoy live music and drinks at Fattey Beer Co.
We have other ways to get involved through volunteering and sponsorship opportunities. Contact Sydney Watters, Events Coordinator at Platter's Chocolate Factory, to discuss.
sydney@platterschocolate.com

716-389-3050
To get a head start you can register for the race here: https://spongecandy5k.itsyourrace.com/event.aspx?id=9784
To learn more about Special Olympics NY please visit them at: https://www.specialolympics.org/?locale=en